Hide producers list
Show producers list
Producent: Hartmann
/ Scraper valve type HM
Scraper valve type HM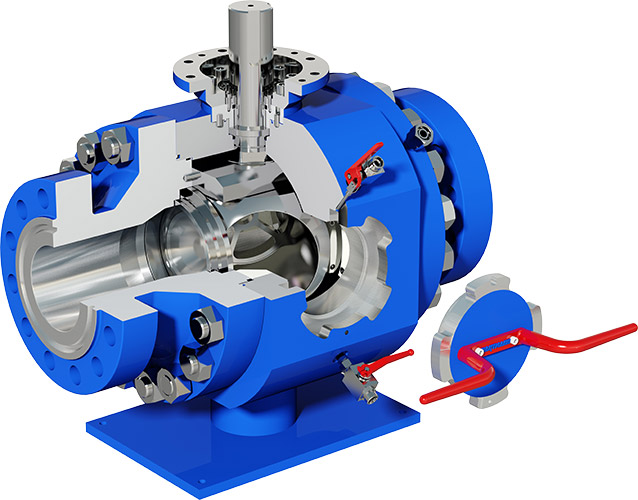 Send a sales inquiry
Person in charge of your inquiry:
+48 12 255 85 01
energiaigaz@cptrade.pl
HARTMANN Scraper valve type HM
Hartmann pigging ball valves type HM combine the advantages of the Hartmann type AST and typical functions such as shut off valves for pigging insertion or removal valves. The simple, secure, and fast insertion and removal of pigs is done through an interlock that is integrated on the side of the pigging ball valve and that is locked and secured through a bayonet system.
Pigging ball valve can not only be in the cleaning version (HMR type), cleaning version but also with a bypass where in closed position, for applications where flow of medium cannot be interrupted (HMB type) pigging insertion or removal valves to split the various products in the pipeline (HMS type).
In the standard version, the Hartmann pigging insertion or removal valves are designed for a maximum pig length of 1.4 x nominal pipe diameter. On request, Hartmann can offer you special constructions for spherical pigs or cylindrical pigs longer than 1.1 to 1.4 x diameter up to 2.0 x diameter.
Simple handling of Hartmann pigging ball type HM is one of the paramount advantages of these valves: For the insertion or removal of the pig the ball is rotated by 90°, which means it is rotated into the closed position. Prior to the opening of the interlock, the housing interior is depressurized via a release valve, then the bayonet catch is unlocked and opened with a left turn. The pig can now be inserted or removed through the interlock.
The advantages of Hartmann ball valves are mainly: simpler handling, safe overdrive, compact dimensions and lower investment costs compared to traditional pigging interlocks.
Technical characteristics:
Construction according to DGRL 97/23 / EG, API 6D or API 6A
Fully metallic seal
Three piece body made of forged material
Trunnion mounted ball
Float-mounted, self-centering seat rings with pre-tensioned spring elements
Sealing force dependent on pipeline pressure
Double Block and Bleed (DBB)
Ability to exchange of upper spindle seal at full pressure in pipeline
Antistatic construction
Safety bayonet catch
Maintenance free
Optional parameters to choose from:
Made of specially selected materials for extreme applications
Soft seal
With special internal or external coatings
With special drive for 180° switching range
Made to order for your specific application
Production range:
DGRL 97/23/EG and API 6D:
DN 50 – DN 600 (2" – 24") up to PN 250 (ANSI 1500)