Hide producers list
Show producers list
Producent: Schuck
/ Ball valves G
Ball valves G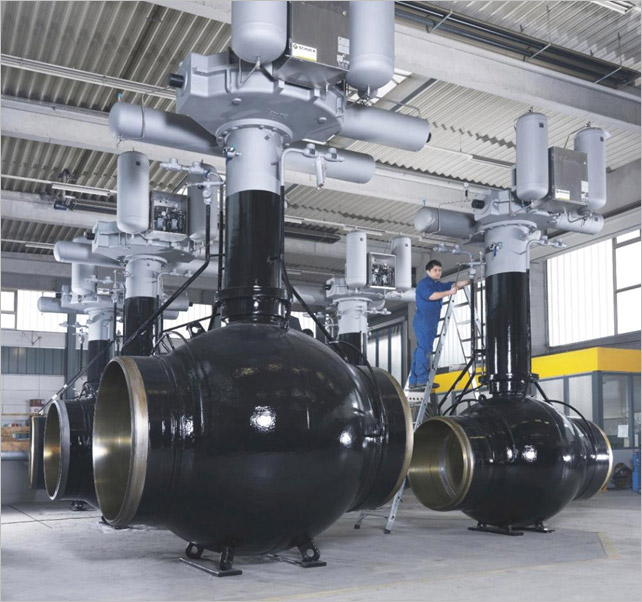 Send a sales inquiry
Person in charge of your inquiry:
+48 12 255 85 01
energiaigaz@cptrade.pl
Schuck type G ball valves have durable construction that has been tested for more than 30 years in a wide variety of installations and piping applications around the world.
Whether the valves are mounted on underground or aboveground pipeline, station or platform, the Schuck type G ball valves are ideally suited for media such as oil, gas or water. With a fully welded body Schuck Type G valves are maintenance-free, reliable and secure.
Schuck type G ball valves have been optimally adapted to the shape of the ball. Thus, the weight of the valves has been significantly reduced. The result of the engineers' work is a spherical shape that seamlessly covers very high nominal pressure ranges and maximum side load.
By using a variety of materials combinations, it is possible to use Schuck type G ball valves for a wide variety of media such as acid gas, sulfurized oil. The failure-free and safe operation of the valve is the most important goal that Schuck is currently implementing.
In response to various requirements, media and environmental conditions, the manufacturer uses three sealing systems: PMSS (Primary Metal and Secondary Soft), SO (Soft Seal) or MM (Metal-to-Metal).
Technical data:
Available from 1/2" to 56" ( DN15 to DN1400)
Design pressure up to CLASS 1500
With flanged, welded or welded-flange ends
Temperature ranges from -60oC to +120oC
Suitable for use with the following media: natural and acid gas, oil, oil with sulfur, hot and cold water.
Important construction features:
Fully welded construction with low weight
Suitable for high pressures and torque
Maintenance free
Anti-static design
Piggable
Available with the Single Piston Effect and Double Piston Effect insulation systems
Compatible with fugitive emission standards
Produced according to PED 97/23 EG API-6D / ISO 14313, EN 14141